The Complete Bicentennial Silver Coin and Currency Set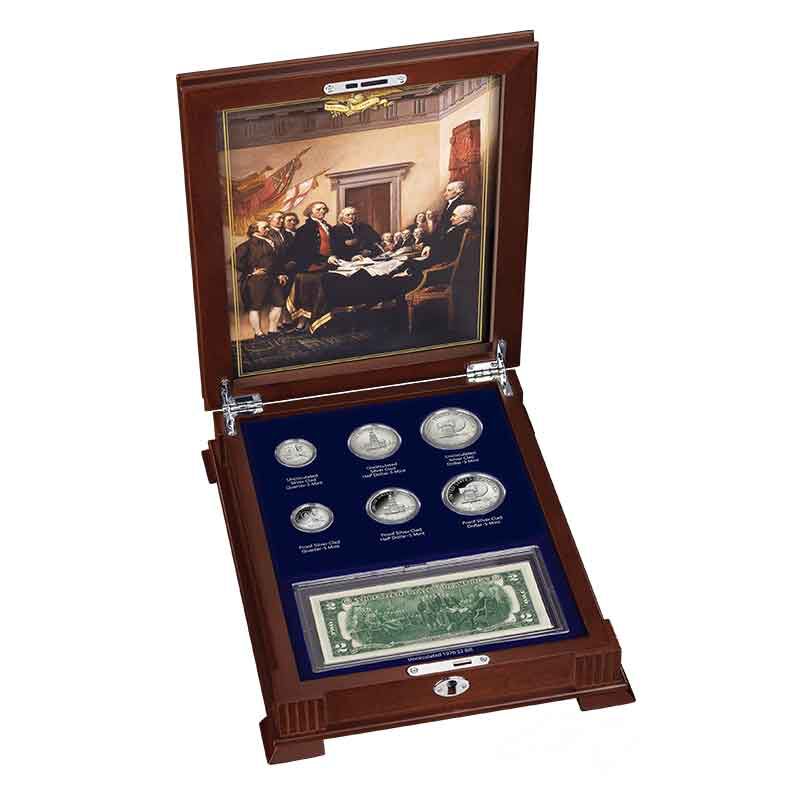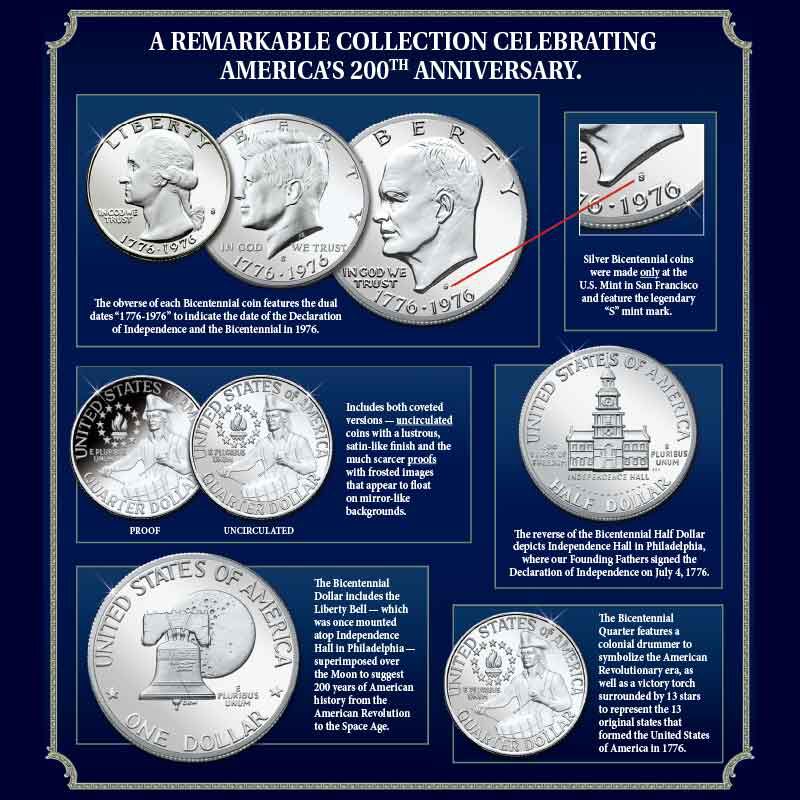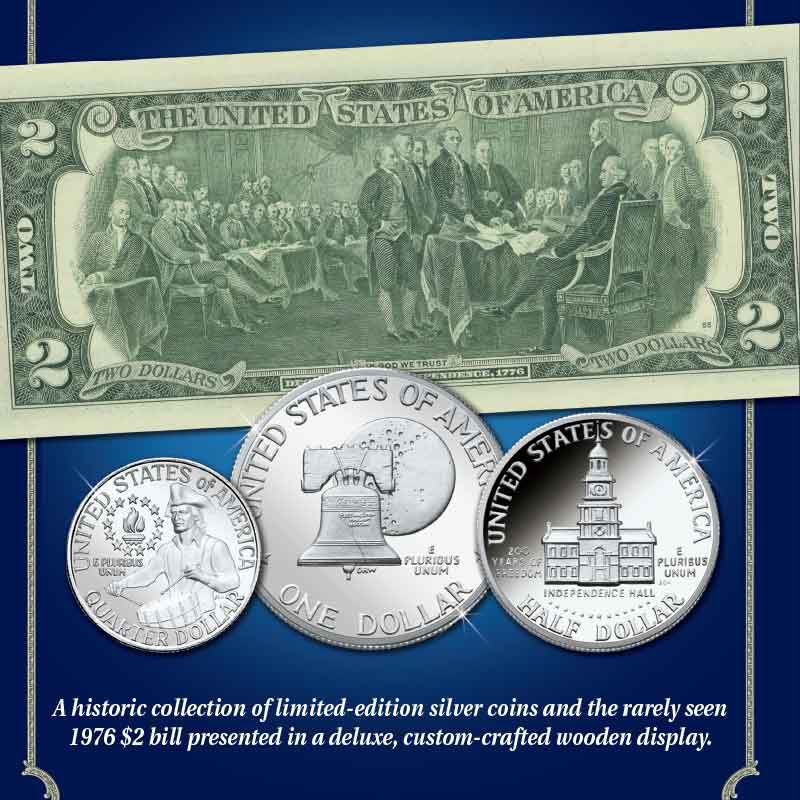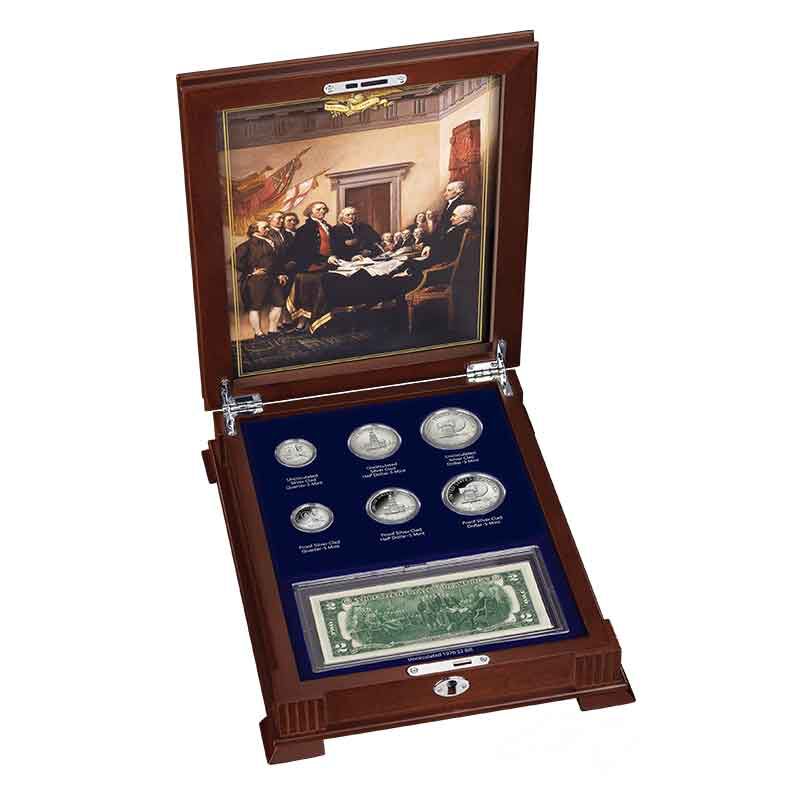 A Historic Collection of Limited-Edition Silver Coins and Rarely Seen $2 Bill.
America's Bicentennial in 1976 was one of the most spectacular celebrations in our nation's history.
The U.S. Mint and U.S. Treasury marked the historic milestone with the first-ever circulating commemorative coin designs and the first-ever commemorative bank note.
The San Francisco Mint issued a small number of the special coin designs in exclusive limited-edition sets of 40% silver coins.
Now, as we approach the 250th anniversary of the Declaration of Independence, you can own the complete set of Silver Bicentennial coins along with the commemorative $2 bill.

Show Less
Show More
Now accepting orders. This product will ship by Mar 2022.
Now available for pre-order
The complete silver coin set including the exquisite proofs and America's only commemorative bank note.
Back in 1976, millions of Americans collected Bicentennial Quarters, Half Dollars and Dollars from their pocket change. However, the uncirculated silver coins disappeared almost as soon as they were released and to make matters worse, the rising price of silver forced the U.S. Mint to melt many of the coins in the 1980s.

It's no wonder that it's virtually impossible to find even a single silver coin today, let alone the complete set of silver Bicentennial coins. Yet this collection includes not only the 40% silver uncirculated coins but also the much scarcer 40% silver proof coins.

As the perfect complement to the complete set of Bicentennial silver coins, you will also receive the only commemorative bank note in U.S. history. Like the Bicentennial silver coins, the Series of 1976 $2 bill was issued to celebrate the 200th anniversary of the Declaration of Independence and is rarely seen today even by the most dedicated of collectors.
To ensure the greatest collector value, the Series of 1976 $2 bill is in original uncirculated condition and the Bicentennial silver coins are in original uncirculated and proof quality. Each item is enclosed in an individual crystal-clear holder that allows you to examine both sides at any time without fear of harm from dirt, dust and fingerprints.

Also included at no additional charge is an elegant wooden display chest that is custom designed to house your collection. The chest features silver-tone hardware as well as a lock and key for added security.


Product Specifications:

Coins Included: Uncirculated and Proof quality 1976 Bicentennial 40% Silver Coins (Quarter, Half Dollar, and Dollar)
Currency: 1976 $2 Uncirculated Bill
Material: Wood
Display Size: 9 3/4" Wide x 12-3/4 Deep x 2-1/2 Tall (closed)



Item #:6391-0012