The Carson Wentz Eagles Sculpture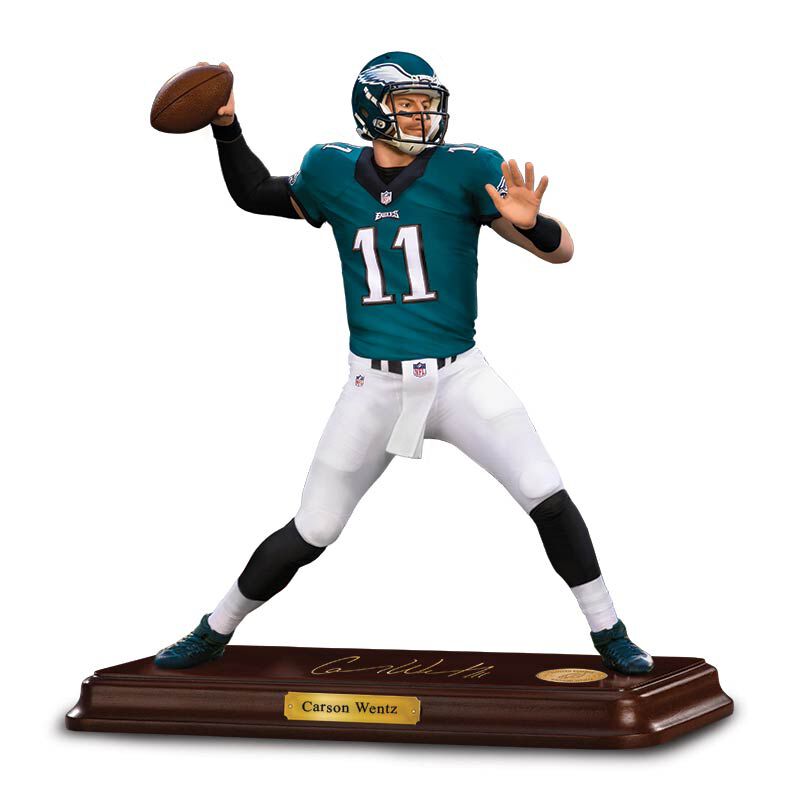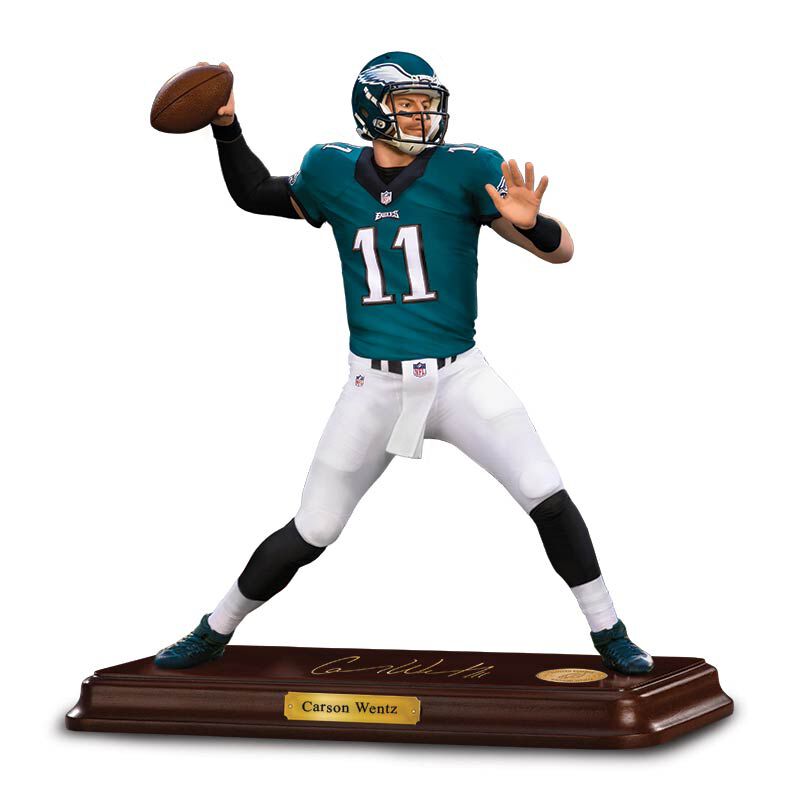 A limited edition masterpiece; the first 5,000 include a 22kt gold-layered medallion.

Carson Wentz has officially staked his claim as the Eagles franchise quarterback and has diehard fans dreaming of a dynasty! The ultimate double threat, Wentz uses his quick feet and big arm to make highlight reel plays, making him one of the most dynamic quarterbacks ever to play the game! And as fans have seen firsthand, this electrifying game-changer will stop at nothing to lead your beloved Eagles to victory!

Presenting a remarkably lifelike sculpture of Carson Wentz, authorized by the NFL and NFL Players, and available exclusively from The Danbury Mint! This is a player sculpture at its most realistic, putting you right there, at the center of the action. Wentz's trademark cool confidence is perfectly captured as he stands tall in the pocket and finds an open man downfield for another Eagles touchdown. What's more, the first 5,000 sculptures will feature a 22kt gold-layered medallion signifying their limited edition status.

Show Less
Show More
This product is no longer available.
Sorry - this product is sold out and is no longer available.
The sculpture makes a commanding centerpiece for any shelf, table, desk, or display. Molded to recreate an original artwork, the remarkable authenticity is preserved by skilled artisans working with the medium of cold-cast porcelain — a special blend of porcelain powder and resin prized for its ability to accurately replicate the smallest of details. Each sculpture is then expertly hand painted to ensure accurate Eagles colors, textures, and on-the-field details. The result is a stunning likeness…evoking the thrill of the action! It's as if you're right there in the stands, on your feet as Wentz makes another big play!

Each sculpture is mounted on a handsome wooden base featuring Wentz's reproduced signature, a hand-numbered bottom stamp and a brass title plaque. The first 5,000 sculptures will also feature a 22kt gold-layered commemorative medallion.



Artist rendering shown. Actual product may vary slightly. Measures approximately 9" tall.

Officially licensed by NFL Properties LLC. Visit NFL.com.






Item #:2537-0362