The Ruthenium & 24KT Gold Enhanced Morgan Silver Dollars Collection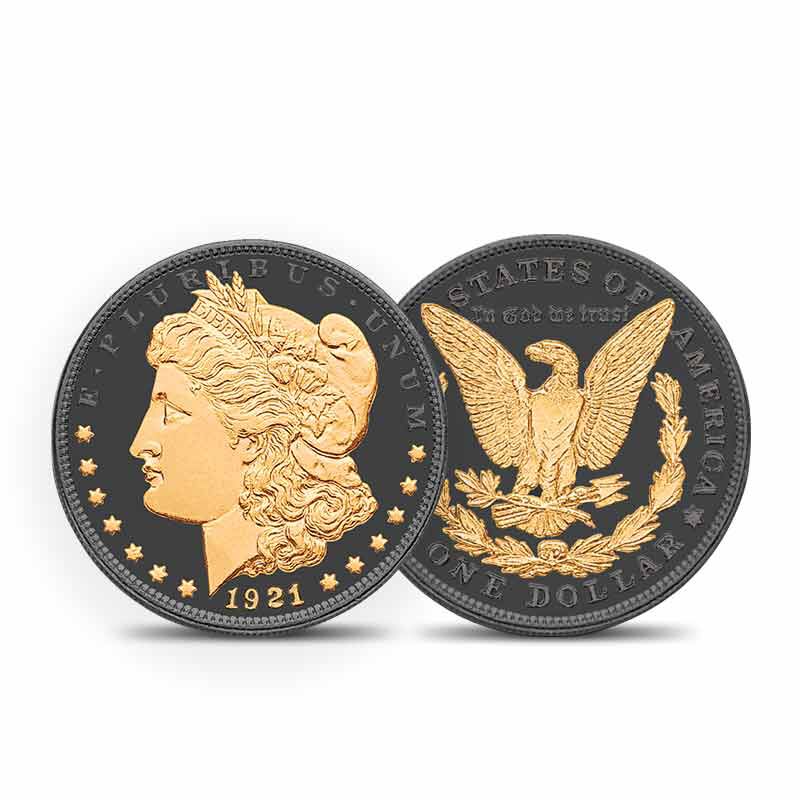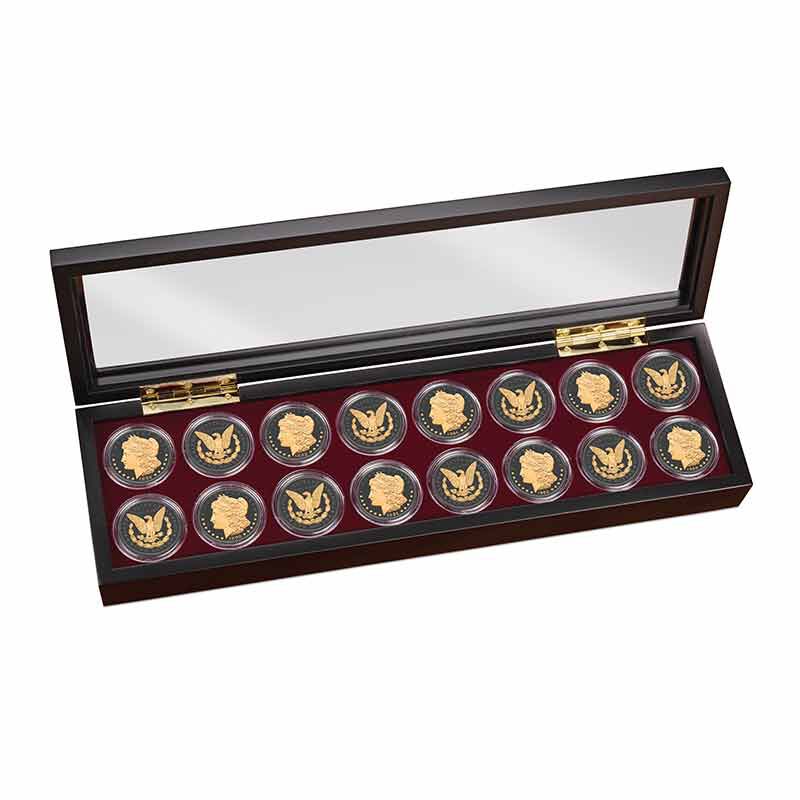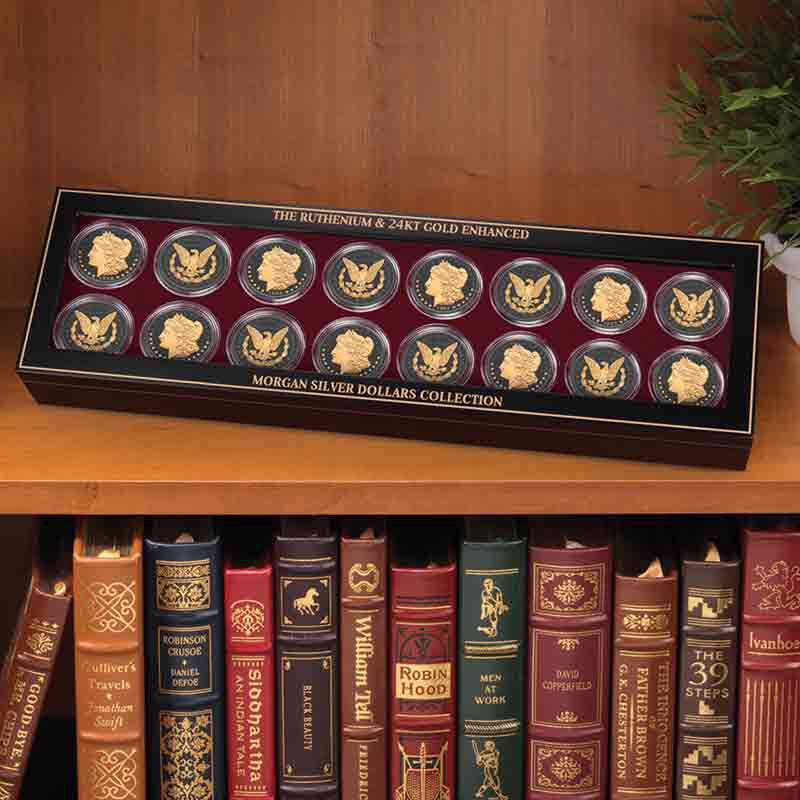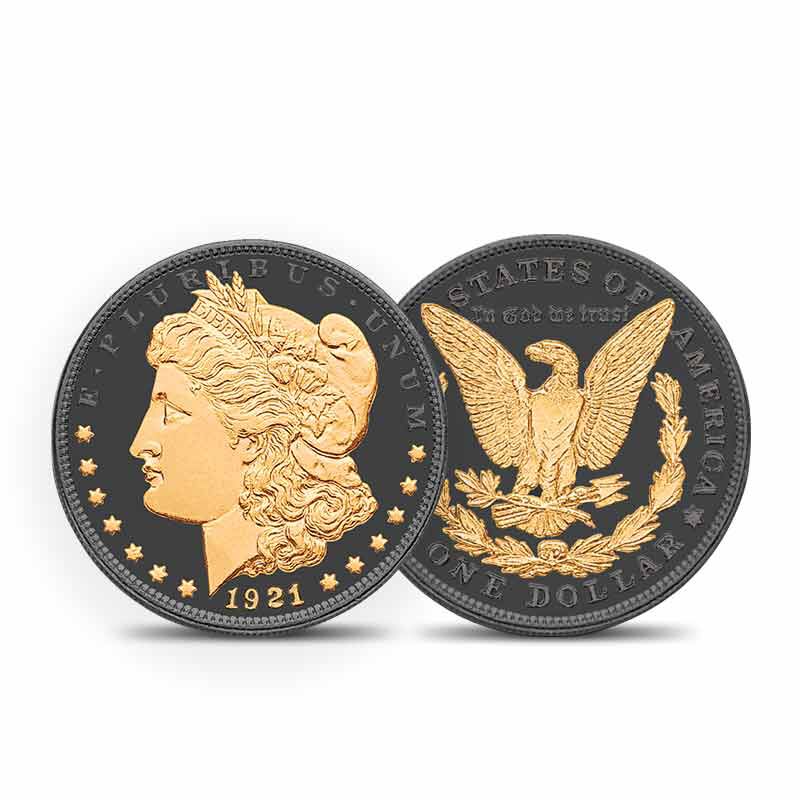 A once-in-a-lifetime treasury of exquisite uncirculated 90% pure silver dollars enhanced with rare ruthenium and sparkling 24kt gold
The Danbury Mint is proud to honor the Morgan Silver Dollar's celebrated place in American history with a superb collection of uncirculated silver coins that are stunningly accented in the brilliance of glittering 24kt gold and the deep midnight hue of pure ruthenium, forming a stark contrast that allows every detail to shine.
The rich black shade of pure ruthenium, a precious metal that is 100 times rarer than gold, set against the decadence of 24kt gold masterfully enhances this groundbreaking collection and raises each coin to a new level of beauty, brilliance and value destined to become the pride of your collection for years to come.
Presented in a deluxe wooden display case at no extra charge.
Show Less
Show More
Ships in 3-5 business days.
$109.95
per coin
2 Monthly Installments of $57.46 per coin (including shipping)
Precious ruthenium and 24kt gold create coins beyond compare.

The Morgan Silver Dollar is already one of America's most beautiful and sought-after coins - and now, through a specialized process, a small number of coins have been transformed into true works of art that will astonish even the most avid of collectors. Each 90% pure silver dollar in this 16-coin collection has been skillfully embellished with rich dark ruthenium, one of the world's rarest precious metals, and 24kt gold layering to accentuate its iconic design. The crisp contrast of the glittering gold against the dark ruthenium background allows you to appreciate the subtle nuances of this iconic design in a way never before possible. This is a collection of coins unlike any other in history…a collection that combines three precious metals in a dramatic display of one of the nation's most cherished coins.

Remarkably, your collection features 16 uncirculated coins, and is guaranteed to include the key first-year 1878 coin and the final-year 1921 coin. As a result, the collection spans the entire history of the Morgan Silver Dollar, and most coins were minted over 100 years ago! What's more, your complete collection contains more than one troy pound of 90% pure silver.

A collection of this importance deserves only the finest presentation. That's why you will receive a spectacular wooden display case at no additional charge at about the same time as your second shipment. The ideal showcase, it allows you to display your complete collection in a museum-quality setting…while making it safe and easy to examine each coin's glorious design and glittering precious metal enhancements.



Product Specifications:

Coins Included: 16 Morgan Silver Dollars including 1878 and 1921.
Display: Deluxe Wooden Display
Display Material: Wooden, Glass


Item #:1798-0012