Time is running out! Guaranteed Valentine's Day delivery when you order in the next
The Complete Denver Mint First Year of Issue Coin Set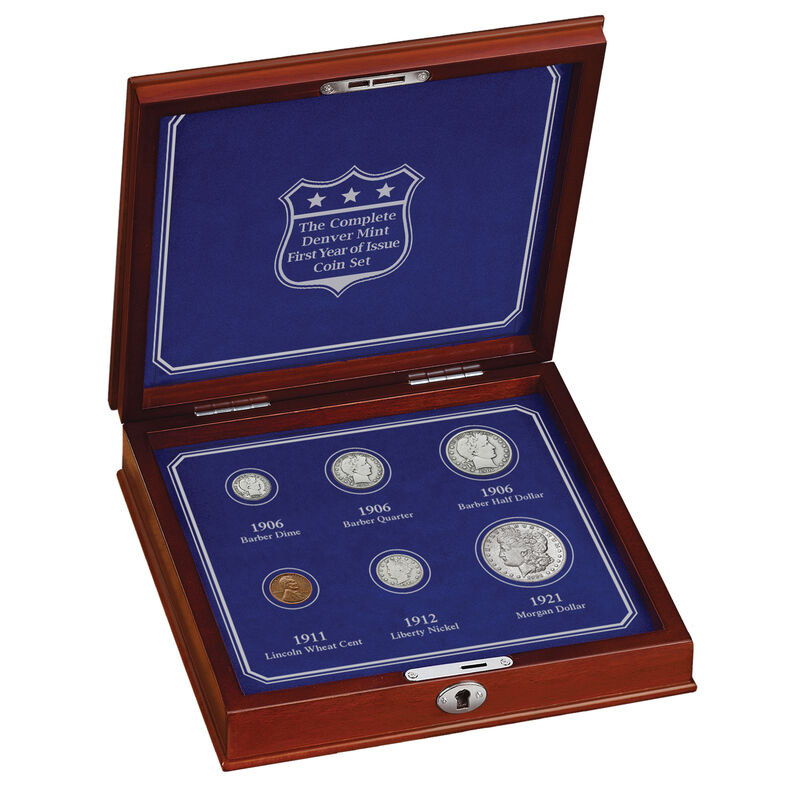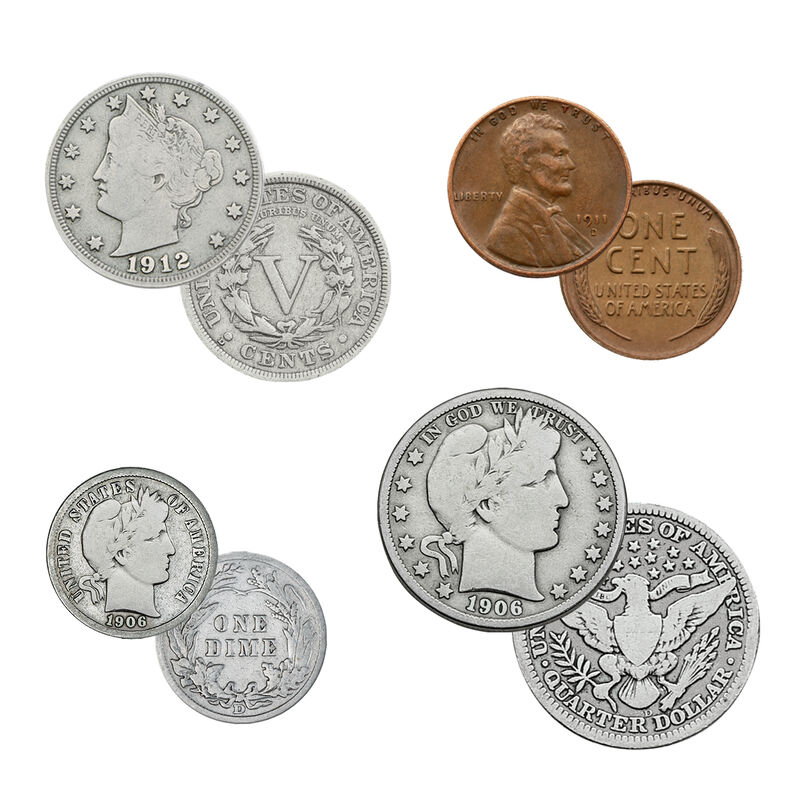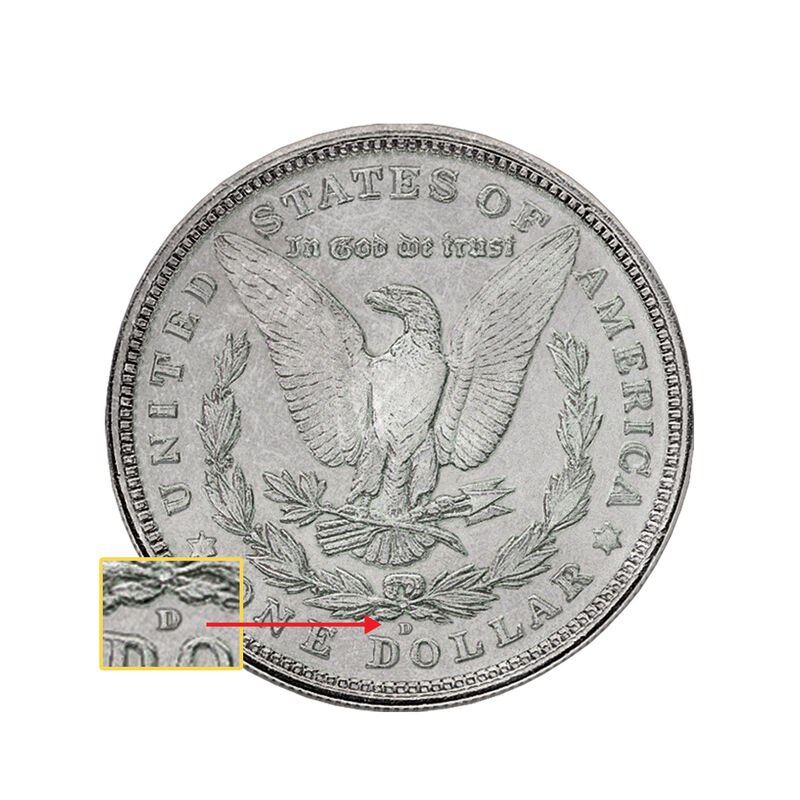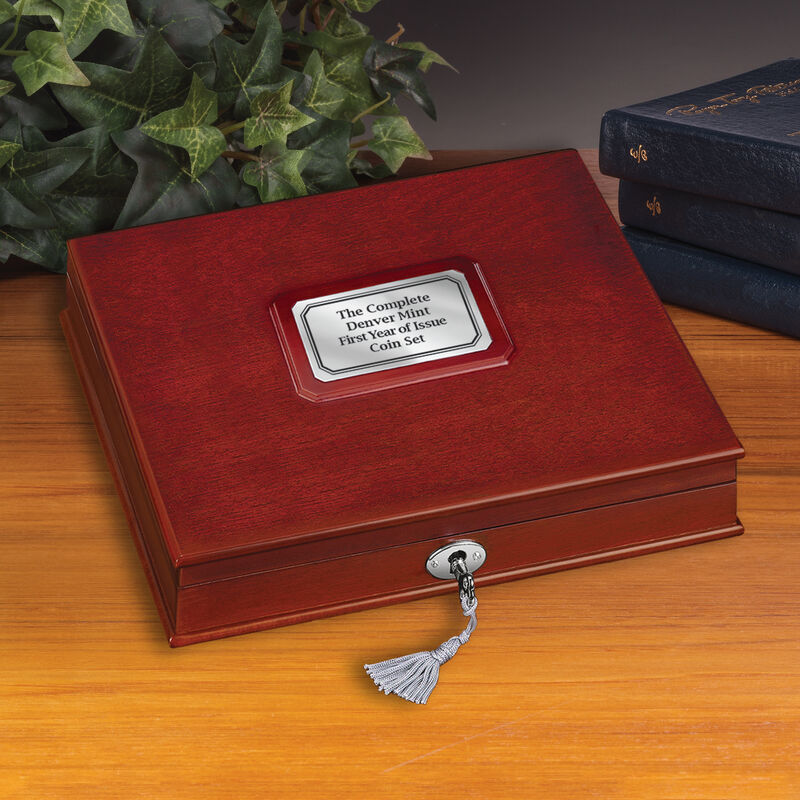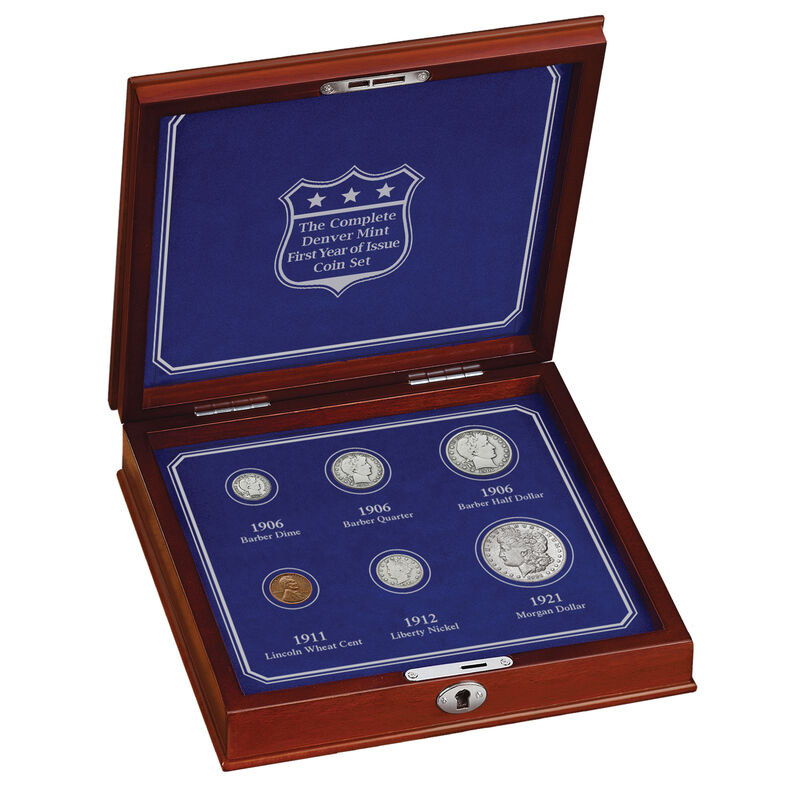 The first "D" mint coins in every denomination, struck over 100 years ago.
A remarkable set of ­ first year strikes representing every silver and clad denomination to bear the "D" mint mark.
This set includes the Barber quarter, half dollar, and dime which were the first coins ever struck at the Denver Mint in 1906…all made in 90% SILVER…as well as the first penny, nickel, and silver dollar struck in Denver: the 1911 "D" Lincoln cent, the 1912 "D" Liberty Head Nickel, and the 1921 "D" Morgan silver dollar.
Each coin is presented in very good circulated condition and is protectively encapsulated to protect it from dust, dirt or fingerprints.
As always, your satisfaction is fully guaranteed. If not delighted with your coin set, you may return it within 90 days for replacement or for a full refund.
Show Less
Show More
Ships in 3-5 business days.
From the Penny to the Silver Dollar, First-Year Strikes of Every Denomination Coin Ever Struck in Denver!
Each coin in this set represents the first year the Denver Mint ever struck that denomination... it includes all three­ first-year 1906 Barber silver coins minted in 90% silver during the Denver Mint's first year of operation…the Mint's­ first penny, the 1911-D Lincoln penny that accounted for only about 10 percent of the year's pennies…the 1912-D Liberty Head nickel that is the first nickel and the only Liberty Head nickel minted in Denver… and the iconic 1921 Morgan silver dollar that is the first silver dollar and only Morgan dollar struck at the world-renowned Denver Mint.
It's remarkable that even a single first-year Denver Mint coin has survived, let alone the outstanding set of all six coins from the penny to the silver dollar. Best of all, each coin is presented in very good circulated condition with all major design details visible. In addition, each coin is housed in an individual crystal-clear case so that you can examine both sides while protecting it from dust, dirt and fingerprints. As the perfect finishing touch for a set of this importance and completeness, you will also receive — at no additional charge — a custom-crafted wooden case with a plush navy blue interior that beautifully complements the coins.
Product Specifications:
Coins Included: 1906-D Barber Silver Half Dollar; 1906-D Barber Silver Quarter; 1906-D Barber Silver Dime; 1911-D Lincoln Penny; 1912-D Liberty Head Nickel; 1921-D Morgan Silver Dollar.
Display Material: Wooden
Display Size: 7" Wide x 7-3/4" Deep x 2" Tall

Item #:6810-0023