The Hakeem Jeffries Silver Bullion Commemorative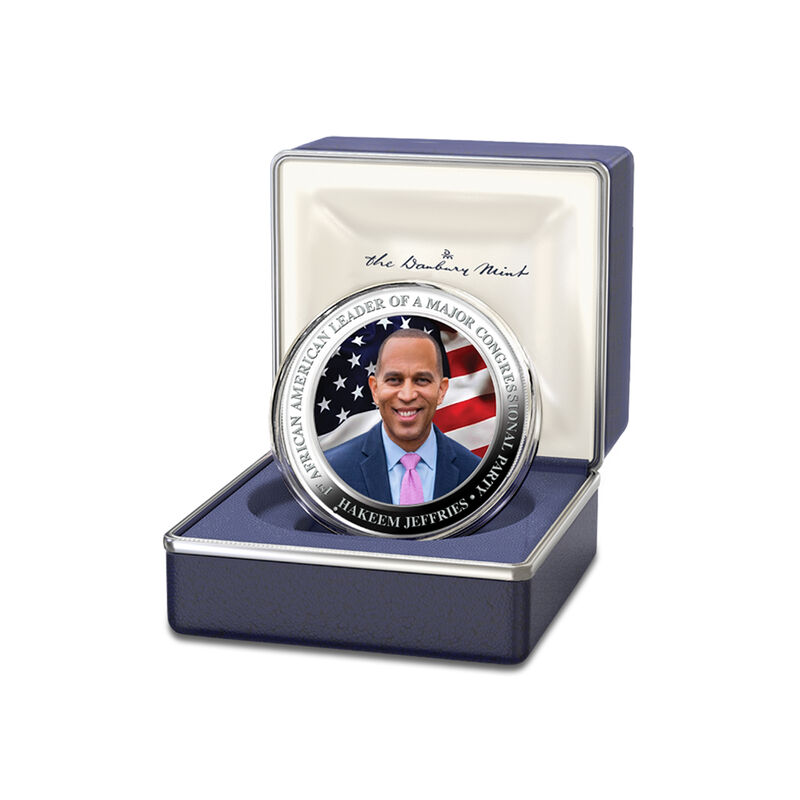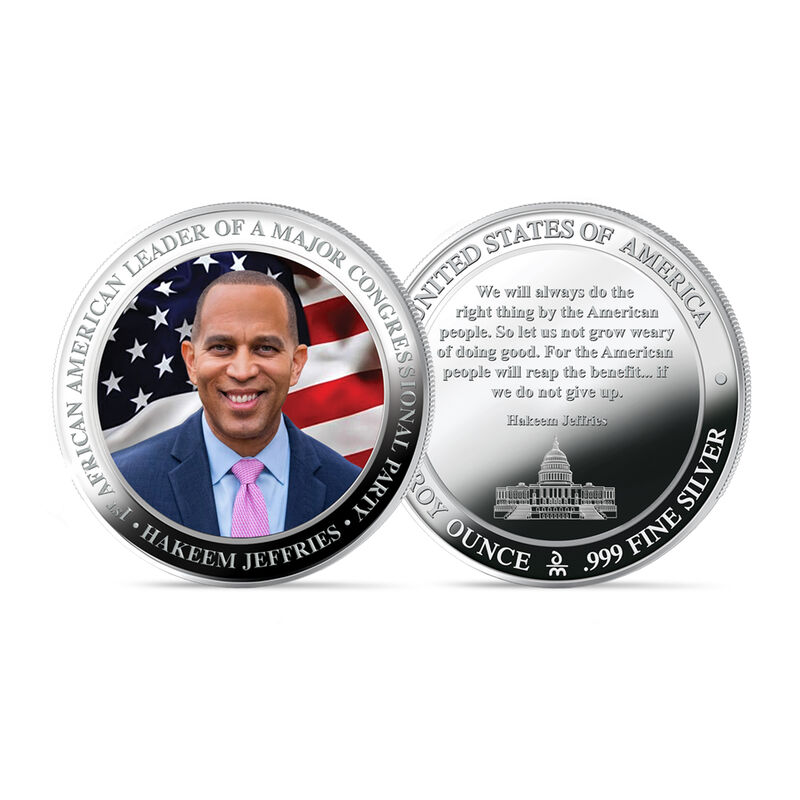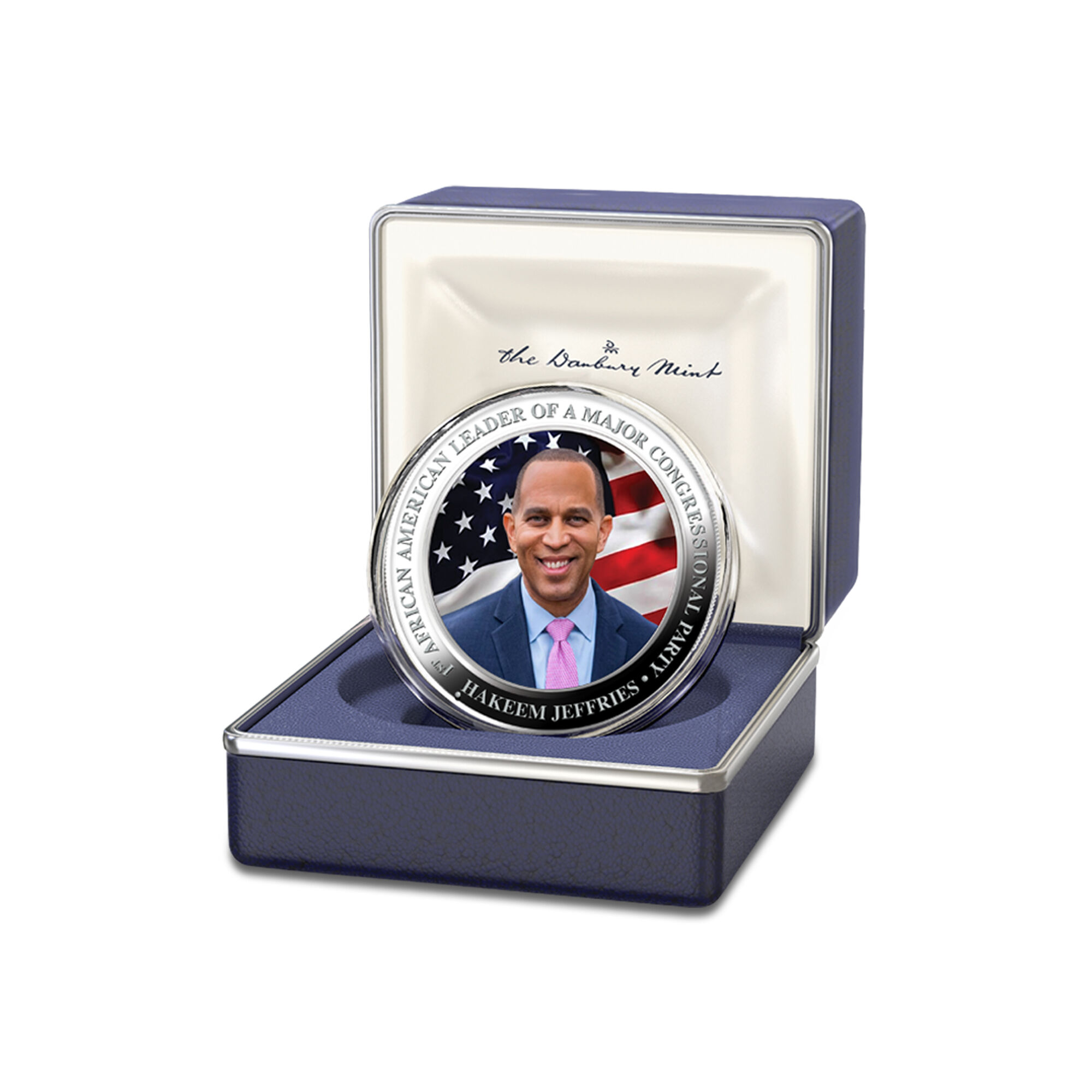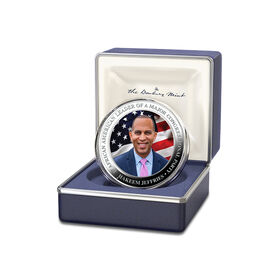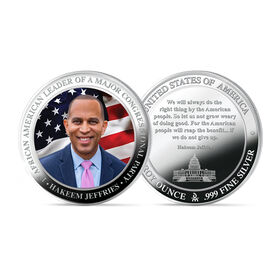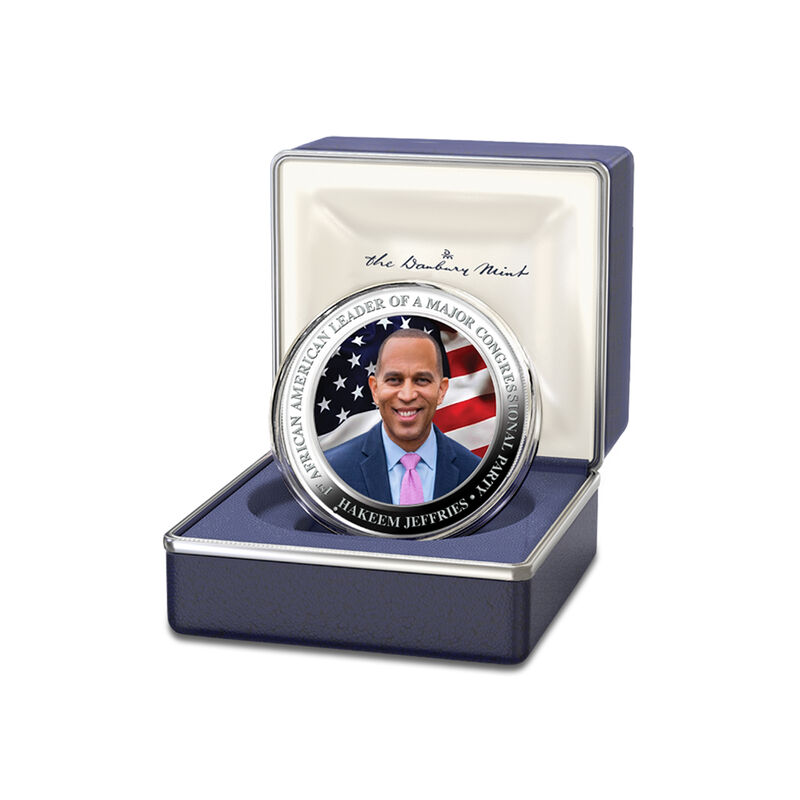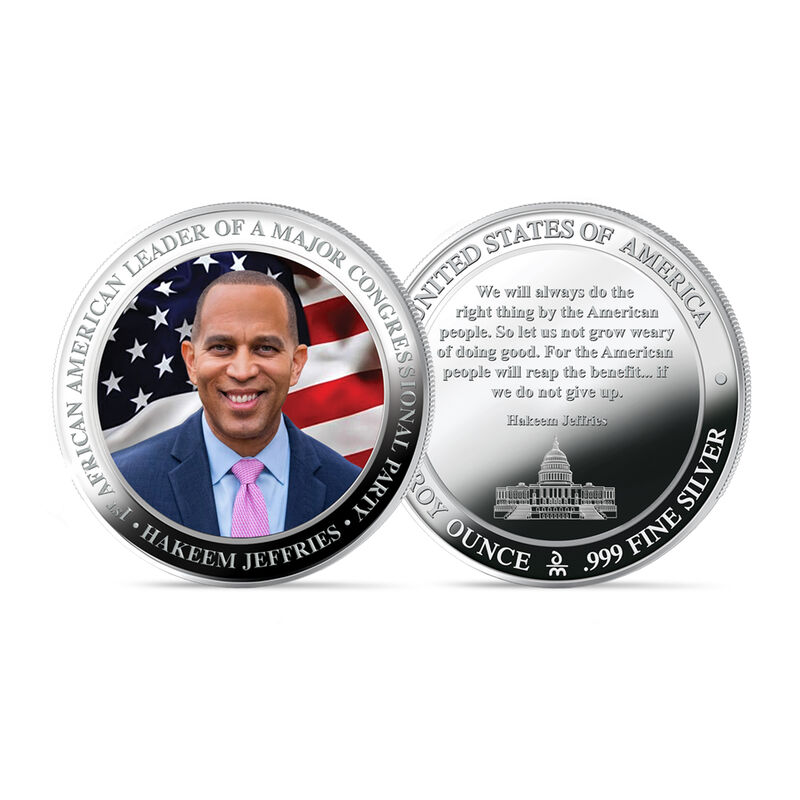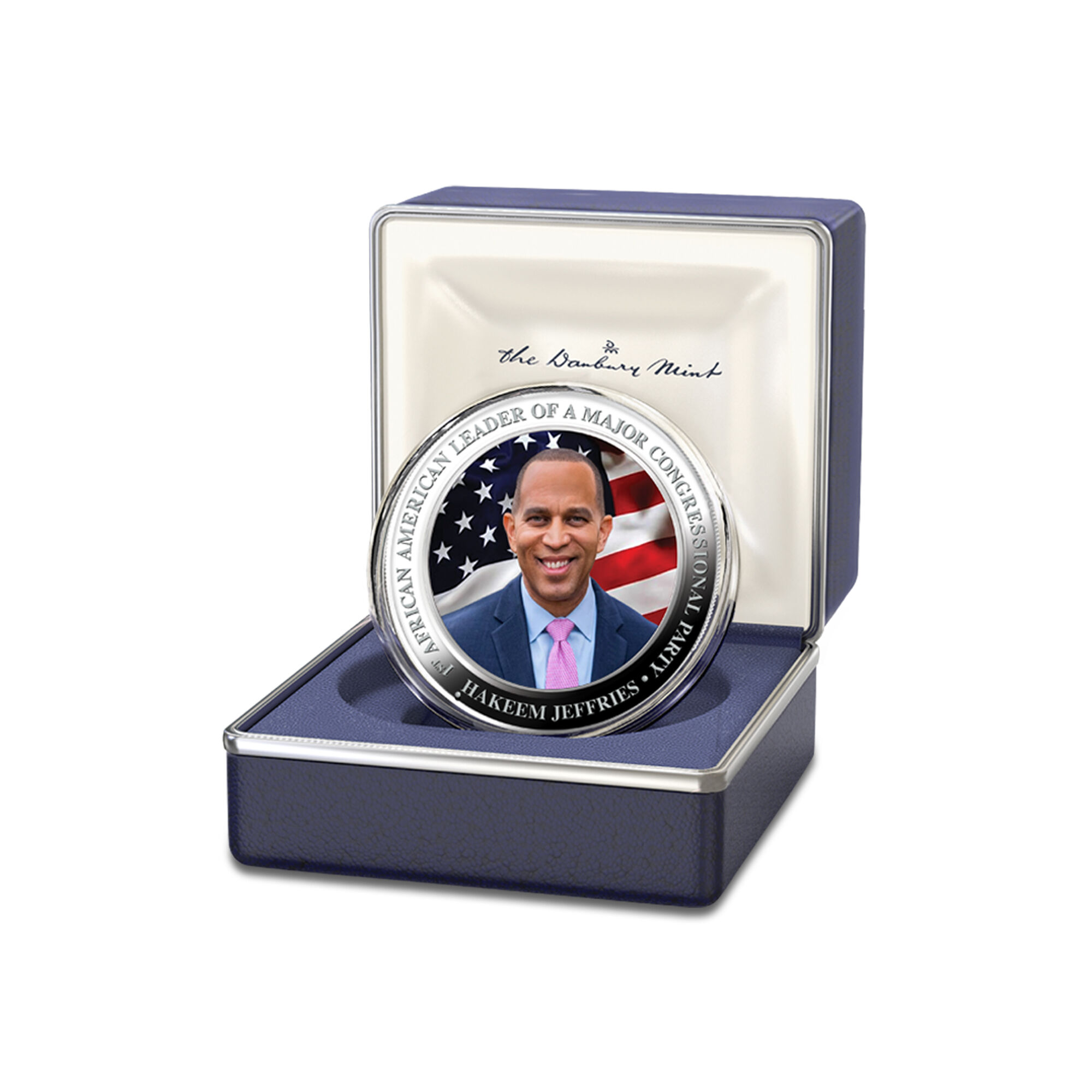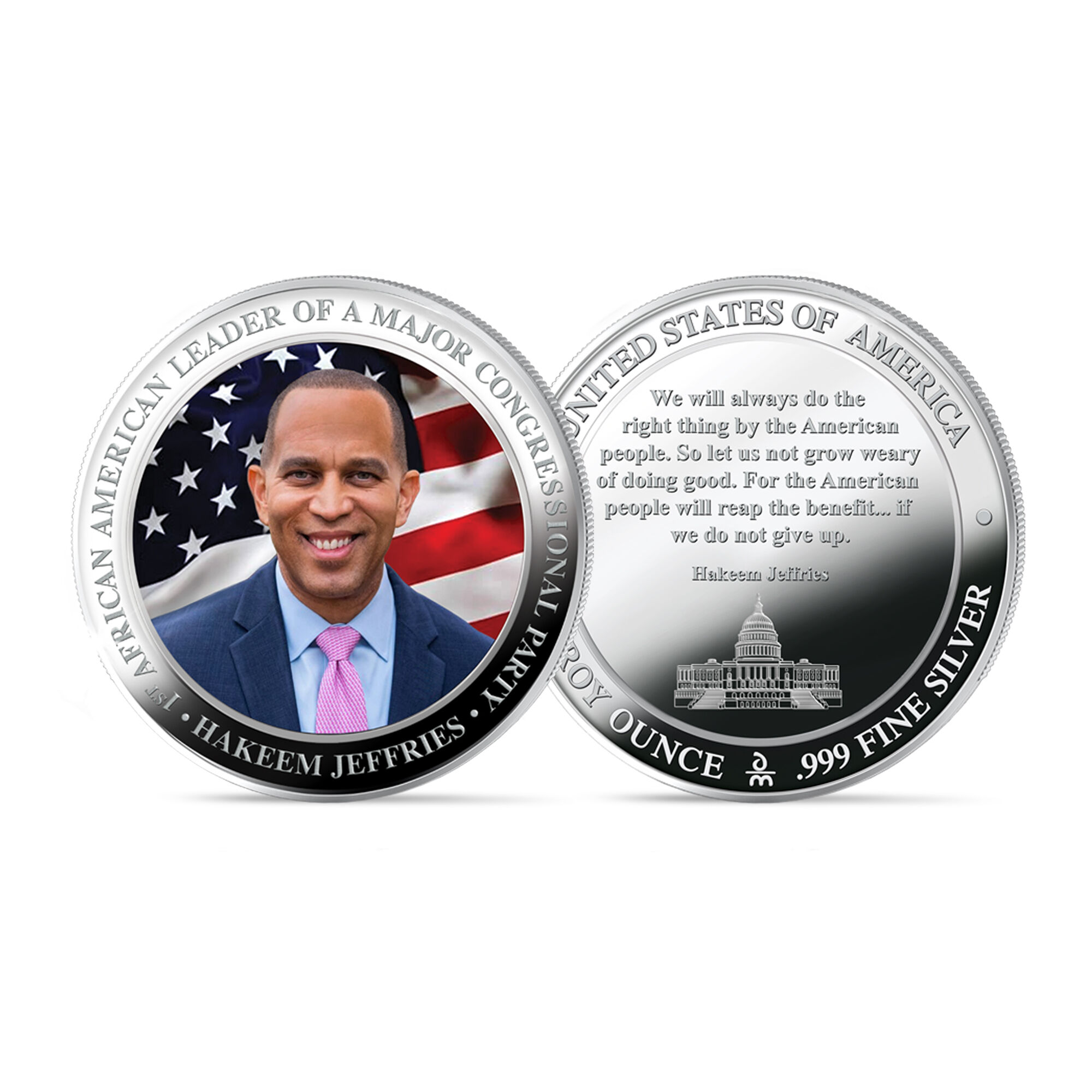 A 99.9% silver tribute to our newest House Minority Leader…
An exceptional color-enhanced silver medallion honoring the first African American leader of a major congressional party!
Struck in one full troy ounce of 99.9% solid silver.
The obverse is beautifully enhanced with a full-color portrait of Hakeem Jeffries while the reverse includes an inspiring quote from Jeffries as well as a certification of the medallion's silver weight and purity.
The custom-designed presentation case allows the commemorative to be displayed either flat or upright and is included at no additional cost.
Show Less
Show More
In stock. Ships in 5-7 business days.
American made and struck in one troy ounce of precious silver.
On January 3, 2023, Hakeem Jeffries made history when he was sworn in as the first African American to hold the esteemed office of House Minority Leader in the U.S. House of Representatives — and the first African American leader of a major Congressional party. Inspired by the icons of democracy that came before him and determined to further their legacy, Hakeem Jeffries' first speech as the highest-ranking Democrat in the House of Representatives spoke about his wish to lift up the American Dream for every single person in the nation.
The Danbury Mint is proud to celebrate this incredible moment in American history by honoring House Minority Leader Hakeem Jeffries with a spectacular colorized one troy ounce proof-like silver commemorative that preserves this remarkable moment for all time. Designed by master artists and struck to the highest numismatic standards in the U.S.A., the Hakeem Jeffries commemorative tips the scales at one full troy ounce of precious 99.9% pure silver. Even larger and heavier than a U.S. silver dollar, it is a fitting tribute to this historic politician.
To protect its gleaming finish, the hefty silver commemorative is housed in a crystal-clear capsule, making it safe to examine both sides without fear of damage from dust, dirt or fingerprints. Presented in a custom leatherette case, you can display the commemorative flat or upright for better viewing.
Product Specifications:
Commemorative Included: A One Troy Ounce Silver Bullion Commemorative.
Display Material: Leatherette Display for Flat or Upright Viewing.
Display Size: 3" Long x 3" Wide x 1-1/4" Deep (closed).

Item #:11455-0015